Any good campaign is based on objectives and goals that want to be achieved. However, the best teams ensure that these targets are thoroughly measured, so that their campaign strategies can be held accountable to business goals and performance. 
Marketing managers have a close on these metrics and, therefore, require tools that are capable of providing all necessary data in a visually accessible format. 👓
Using Gridfox Views, you can interact with the Tables in your project. As soon as your Tables and Fields are populated with data, you can then configure each of the Views that you need. Spoilt for choice, here are a few ways that you can visualise that campaign-critical data… 
There's an old Chinese proverb that goes something like this: "life just gives you time and space — It's up to you to fill it". Think of a calendar as your project's map, on which you will guide your team to campaign success! 📅
Gridfox's calendar view allows users to see upcoming tasks by the exact date and, with colour-coded field types, get an understanding of how their workload is being shared.
Plan out your team's upcoming campaigns and configure views by fields. Use Filters to hone in on certain areas (social, content, influencers, etc.) and choose between two handy calendar styles — grid or column — to ensure that data is presented in a way that suits your team. 📆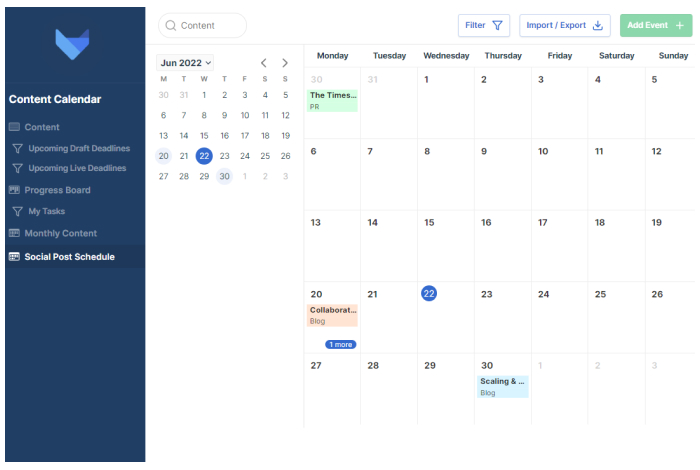 The legacy of mechanical engineer and management consultant, Henry Gannt, lives on through his handy Gantt charts. These charts provide an ongoing view of projects and their numerous tasks, giving users the ability to map out their working schedule with clarity. 
A Gantt View simplifies the management of a marketing campaign by showing the sequence of tasks and identifying who is responsible for which aspects.  As teams work, they can see how their work contributes to the overall plan and the impact it may have on others. Transparency and Trust in motion. 📶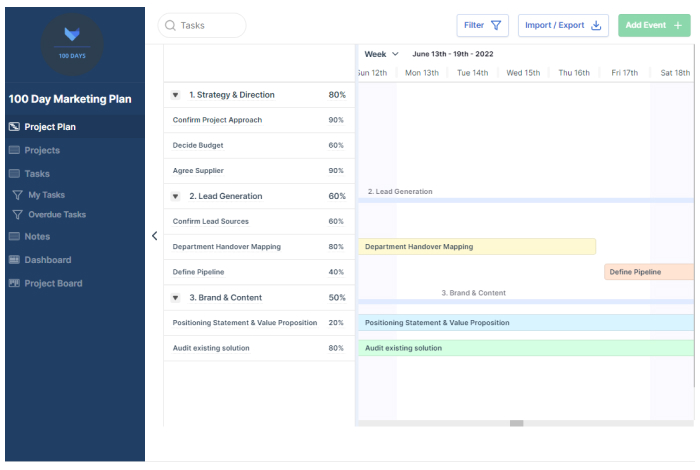 Gridfox Boards provide a quick overview of team activity by separating tasks into columns and rows, allowing you to identify workload imbalances and eliminate the need for progress meetings when necessary. 📋
Boards are also useful for giving teams transparency over external data, be it clients or sales leads. As an example, Boards can display progress of each of your sales opportunities, grouping them according to their status and sales region.
What's more is that you can create as many Boards as you like in your Projects. You can also create multiple Boards for the same Table to allow you to get different views of the same data.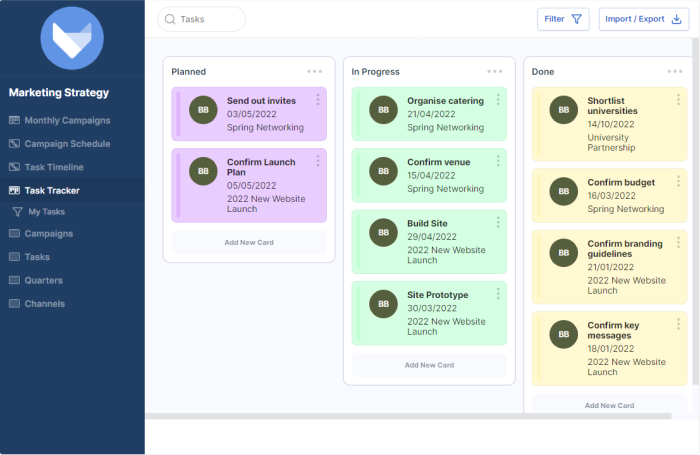 Controlling your data 
Not to be overlooked is the ability to hide views. Marketing is a numbers game and it's not uncommon for managers to get swamped in the metrics. Gridfox overcomes that overwhelming issue by letting users toggle their views and filter out any data that isn't relevant to your analysis. 
There's Dashboards too. Dashboards centralise all your important data on one screen. Simply drag and drop from a number of handy views, including a pie, funnel or bar chart, to get a useful overview of your project data. 😎
You can visualise your data in this way to make valuable business decisions and save time when it comes to data analysis. For example, your dashboard may help you see whether your project is underperforming with regard to new leads, allowing you to restrategise and refocus your efforts in other areas. No more, no less. 
Great view with Gridfox 
Here you've seen just a few of the great views that marketing teams can use to get that critical oversight over their campaign data. Whether you're simply tracking daily tasks or quarterly client conversions, Gridfox ensures that marketing teams have visibility of the data that drives their campaigns. 
Gridfox provides the perfect canvas for measuring success regardless of how you need to see the data. Not to mention, you'll find all of these great features in our marketing templates; your very own ready-built gift from us to you. 🎁